Job Application form
Are you looking for a new job?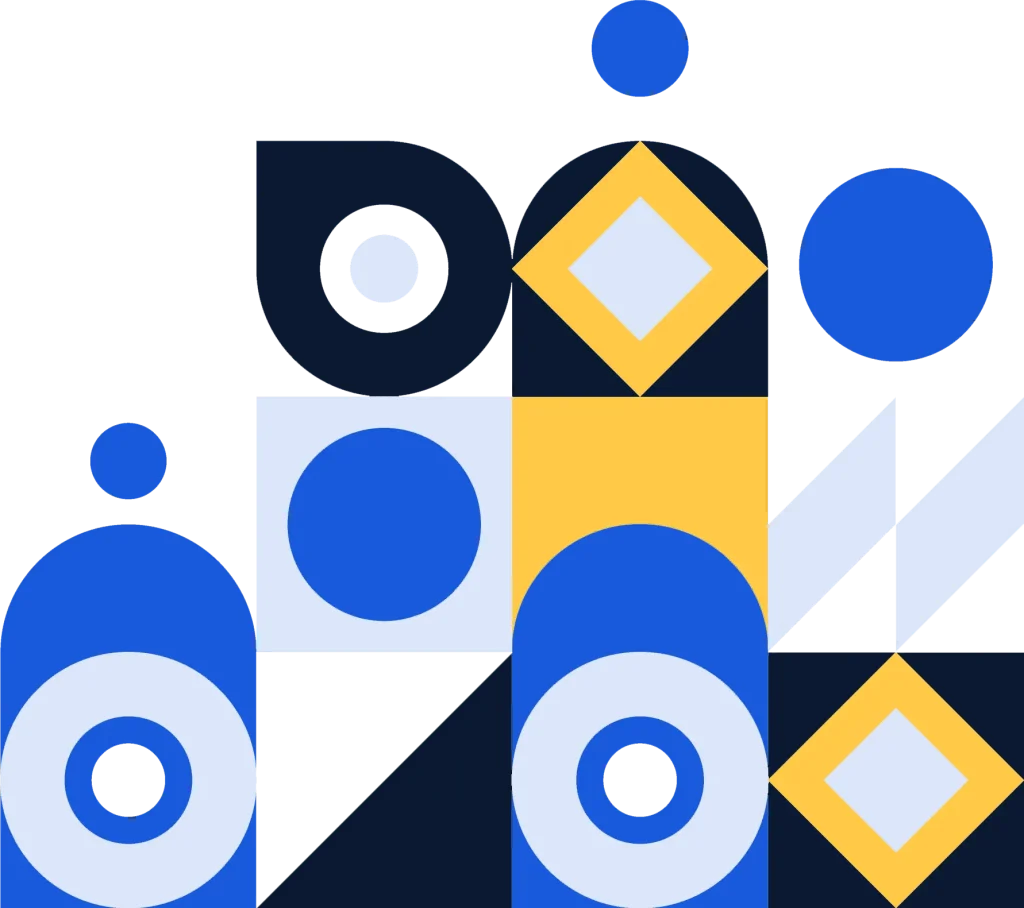 Frequently asked questions about job application form
Particularly in the current market, the hiring process for a job vacancy can be stressful. The average corporate position receives 250 applications, so you need to make sure your hiring procedure is efficient in order to quickly reduce the number of applicants.

Initially, you must draught a compelling job description that contains the following details:
Position name.
Work category. Is it a full-time or part-time job?
Workplace location. What location is your office? Is the job hybrid, remote, or onsite.
Requirements for the job. What qualifications, such as years of relevant experience, years of education, or physical requirements, does the applicant need to meet in order to be considered for the position?
Job duties and expectations. What daily tasks will the employee be expected to perform?
Pay range.
Advantages.
Why is it so important to use the right job application?
You'll waste a lot of time without a proper job application form that is well-organized and gathers the data you need about candidates' background, skills, and areas of interest.

The hiring process will be prolonged or rendered ineffective as a result of your forced sorting through a seemingly never-ending list of applicants, the majority of whom are unfit for the position, and fragmented candidate data (work experience, job references, specialised skill sets, etc.). You will also lose money. After all, you can only take on so much work at a time until you find the right person.

Appropriate application forms aid in maintaining the hiring process's timeliness. You'll have instant access to job candidates' information once they finish and submit the application, so you can start narrowing down the candidates for interviews.
How to write a job application form?
The best job application forms are polished and consistent with your brand (e.g., have your company colours and logo at the top). They should be ordered, clear, and concise in addition to being easy to access.

Job application forms should flow naturally, beginning with the applicant's name, for example, and it should always be clear what information is being requested and why. (Pro tip: Steer clear of questions that could reveal an applicant's age, race, disability, or religion in order to prevent any kind of discrimination lawsuit.)

While application forms for jobs differ from company to company and job to position, they frequently contain many of the following form fields that can be filled out.
Contact information
To follow up with an applicant regarding the position, you need to know their basic contact details, such as name, phone number, email address, and mailing address.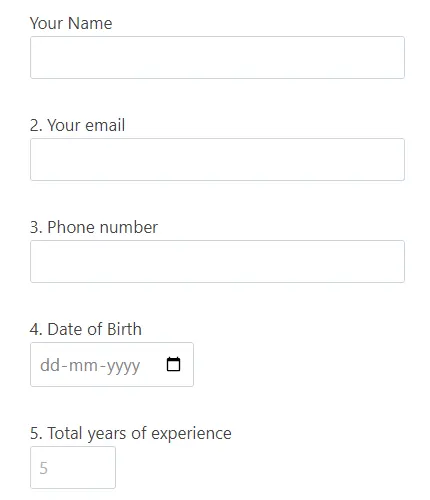 Education
You can determine whether candidates are a) well-qualified for the posted position and b) able to follow instructions by finding out when and where they graduated from high school, college, and/or graduate school.

Let's take an example where your job posting states that the candidate must have an MBA, but they only have a high school diploma. It's safe to assume that they either didn't read the job description with enough attention or believe they have what it takes to do the job well even without it.

Although confidence is a commendable trait in any job candidate, it might not be advantageous in this particular situation. In summary, this one form field can help you find possible candidates more quickly and can save you time and stress during the hiring process.
Work history
A work history section is necessary for C-suite or managerial roles, even though it is less important for entry-level positions (it may be fairly light or full of less relevant positions). You can determine whether an applicant will be a good fit for your company by learning more about their previous job titles and responsibilities from the employment history form fields. This information includes when and how long the candidate held each position.
Professional references
Although it's not required, especially for entry-level roles, to have a professional reference section on your job application forms, it can be very useful at the end of the hiring process.

Reach out to the references listed on each candidate's application, resume, and interview notes if you've gone through them a million times over and still can't decide. Making a hiring decision can ultimately be aided by asking a few questions about their skill set, work ethic, and experience from their previous colleagues.
Upload resume
Place a button that says "upload resume" or "upload cover letter" close to the bottom of the employment application, usually just before the submit button. A resume provides you with a firsthand examination of an applicant's spelling, grammar, and organisational abilities in addition to extra details about their employment or educational background that you might not have learned otherwise.
Submit button
A large, bold, clickable "submit" or "send application" button should be present at the very end of the job application form. The applicant will know their application is on its way to you once they click that button.
Optional inclusions
Although not required, these three honourable mentions belong on job application forms:
Job skills and training
If you would like your candidate to mention any specialised skills or certifications, you can have this section stand alone or as a subsection within the work history section, even though many employers combine it with "Job skills and training."
Availability
If you work in the hospitality, retail, or food service industries, including an availability section in your job application form can be very beneficial, particularly if you have a large backlog of applications. Even with a stellar application, if an applicant can only work days and you need someone to cover nights and weekends, for example, they are probably not worth interviewing.
Which questions should you ask in an interview?
Although job application forms are the first step in the hiring process for most companies, they are not the last. The next stage is for hiring managers to set up and carry out interviews after they have reviewed resumes and identified applicants they are interested in.

Interview questions differ depending on the company, role, and even stage of the interview, much like job application forms. The questions you pose in the initial round of interviews will probably change from the final round as you narrow down your pool of potential candidates and become more specific with your questions.

Nevertheless, the majority of initial interviews follow these ten standard interview questions:

What makes you want to be employed by this company?
Why are you the best candidate for this position?
Could you describe an instance where you disagreed with a coworker, manager, or client? What was your approach to it?
Which type of work—solo or team—do you prefer?
In five years, where do you see yourself?
Which professional achievement make you the happiest? Why? How did you arrive at that point?
Which of your strengths are the strongest?
Which of your weaknesses are the biggest?
How do you handle high-pressure circumstances such as pressing deadlines or disgruntled clients?
Why are you quitting your job at the moment?

You can gain a better understanding of each candidate's interest in the position, familiarity with your business, career habits and aspirations, and industry knowledge and skill set by asking the right questions, specifically open-ended inquiries that go beyond the information gathered from resumes and job applications. Conducting interviews with job candidates aids in ascertaining their compatibility with the position and the organisation as a whole.